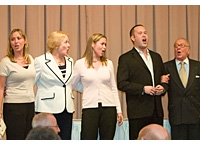 The vital efforts of the Bel Canto Foundation in fostering and preserving the art of Italian Opera singing and supporting aspiring vocal artists is made possible through the contributions of its members.

You can be an important part of this worthy enterprise by becoming a member of the Bel Canto Foundation. You can do so at a number of donation levels:

PIANO MEMBER
$25-49

MEZZO FORTE MEMBER
$50-99

FORTE MEMBER
$100-249

CRESCENDO MEMBER
$250-499

FORTISSIMO MEMBER
$500-999

SFORZANDO MEMBER
$1,000 or more

Ovation Notes offers members a special way to celebrate and honor the birthdays, graduations, weddings, anniversaries and accomplishments of family and friends. It also makes a thoughtful and lasting memorial tribute to a loved one. Donations are accepted in any amount and are acknowledged.
To become a member, download and print the following form,
fill it out and mail it with your check to:
THE BEL CANTO FOUNDATION
3935 W. Devon Ave.
Chicago, Illinois 60659

Download Donation Form (pdf file)